Bruno & Gino's Performance was the original speed shop and "The Bottiglia Bros" raced this Chevy for years at Luskville Dragway.
Bruno's past and present
The history of Bruno's Automotive dates back to 1970 when Bruno and his brother, Gino, built a 3-bay garage. Their passion for performance was fulfilled by drag racing at the local Luskville Dragway. Their race car was a 1955 Chevy 210 driven by another brother, Marcello. In 1976 an addition was added to the building in order to retail performance parts and accessories.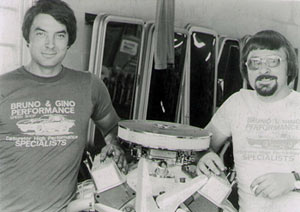 Throughout the early years, the brother's service station became well known for their top quality and honest service.
Twenty years later, Steve and Joe took over the company from their father, Bruno, and still maintain the same philosophy and ethics.
Bruno passed away in 2005; he was truly a legendary mechanic who will never be forgotten.
Today, Bruno's Automotive Inc. takes a brand new approach to serve Ottawa with the same best quality and honest service by bringing their years of expertise to the customers. They will come to you so you don't need to drive around. Steve and Joe can and will do their best to meet your auto repair or service needs. Call Bruno's via phone: (613) 225-9986, email brunosauto@rogers.com, or book your appointment online.